>In the midst of my basement treasure hunting, I did come across some things that might be beneficial sometime in the future. Like this children's songbook, for example.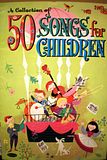 Sure it's old, but it's got some classics in it. Plus the music in case I forget the tune. I decided to keep it. I turned to page 14 and found a song that Mother Goose apparently wrote. I had never heard of the song, but my mother had. She then proceeded to sit down at the piano and sing the song to me. Have a look: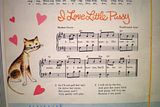 It's about a kitty! Right? A kitty.